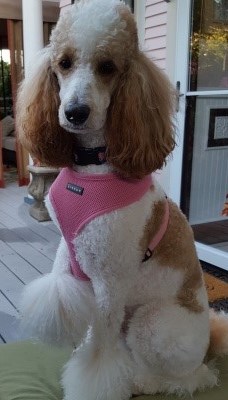 BOW WOW BLOG
If Poodles Could Talk this is what Lucy Carney would say from under her dad's desk:
I heard my dad talking today to a client about PIP, oh good we are having "piporoni," "I love piporoni!" Then he said UIM, and I thought to myself what is that? So I asked him and he said,
Okay Lucy,when insurance companies in Washington state sell automobile insurance to a new policy holder they must offer PIP and UIM insurance. Personal Injury Protection ("PIP") is like you are to your mom and dad...it should be there for them. However, they need not to expect it if things are more serious. A policy owner has the right to refuse PIP insurance, otherwise it is written in all Washington State automobile policies. The minimum limits are $10,000, but most insurance producers offer limits of up to $35,000. PIP will cover medical bills and lost wages after the accident, and it doesn't matter who is "at fault" in the accident.
Uninsured/underiinsured motorist (UM/UIM) insurance is like your parents are to you... it should be there for you. If they have depleted all other options this coverage will help them. The minimum requirements are $25,000 per person and $50,000 per accident. This coverage covers damages that the insured would be entitled to from a third party; however if the third party doesn't have insurance or not enough coverage (state minimums) then UM/UIM insurance would pay the damages up to their policy limits. Again, like PIP the policyholder has the right to refuse this coverage they do so in writing.
Sorry Lucy these coverages don't cover you, only your parents.
From Lucy - How do my parents keep me safe when I'm going bye-bye in the car? I think that I'll talk to my mom about this and I will let you know what she says in my next blog.